About MauiGoose
MauiGoose Celebrating 25 Years Online
Where in the world did the name "MauiGoose" come from? That's the first question that everyone asks Verna Kuyper of this unusual but widely adored name. The truth is that it came from an inspirational dream that she had one night. She dreamed of a large "Nene" Goose (which is the state bird of Hawaii) flying purposely and circling through the clouds above her farm. It was towing a little wooden cart brimming with the day's bountiful harvest. The next day MauiGoose was born and instead of becoming CEO, Verna became "COG"- Chief Operating Goose.
As we learned in Mother Goose, every goose must have its story and so, we do. MauiGoose began in 1978 on a ten acre flower farm that grew and sold exotic protea. Protea is a flower that has 1,500 varieties and was first introduced to Maui in the 1970s as a cutting from South Africa. The farm, called Hunalani (Hidden Heaven) was nestled on the cool slopes of Mt. Haleakala (House of the Sun) on the island of Maui. The original shop was located at the Kula Lodge, with the farm a nearby half-mile up the mountain. Both visitors to Hawaii and the kama'aina (longtime Hawaii residents) came to the shop because of the friendliness of the people who worked there, their knowledge of artistic arrangements and the quality and beauty of the flowers themselves. As an extra bonus, they also sold amazing and unique local arts and crafts. Remember Verna's dream of the cart filled with bountiful harvest?
At this time, Verna was both managing the gift shop and working tirelessly to develop the business, which had expanded its sales to both individual customers and florists. She had learned that by applying her background in art and sculpture to the medium of floral arrangement, she could create both classic and contemporary designs, emphasizing the beauty of Hawaiian flowers. She also started to travel extensively to the Mainland, giving promotional workshops on the use and care of Hawaiian flowers.
During this period, Verna worked hard to advance the Arts in Hawaii. As part of the seven member Advisory Committee to the Maui Arts and Cultural Center, Verna helped select and commission architectural artwork elements for the new Maui Arts and Cultural Center for visual and performing arts in Kahului (MACC).
After the original business disbanded, Verna decided that she still had many things that she wanted to accomplish. When she discovered that the beauty, freshness and quality of her flowers would not be compromised by using the fastest service that FedEx had to offer, another dream came true. She was able to add e-commerce to her business plan. In this way, she could begin to share her love of Hawaiian flowers and her sense of design with both the people of the Mainland and Canada. There's that dream again. The goose was now flying "with purpose" to Canada and the Mainland.
Although today the offices of MauiGoose are located in New Bern, North Carolina, all flowers are still shipped from the same Hawaiian flower farms. Verna visits Hawaii frequently and is in constant contact with her farms, so much so that it is almost like she is still "on island". Using FedEx and its fastest service, people on the Mainland or in Canada can order beautiful and long lasting Hawaiian flowers for a special occasion on a Wednesday and have them by dinnertime on Friday. MauiGoose is just a phone call away.
In North Carolina, Verna has supported local arts and non-profits including garden clubs and Master Gardener programs with her knowledge of culture and history of Hawaii.
So as you can see, the name came not only from Verna's dream one night but from 25 years of dreams based on the kind of company that she wanted to have, her love of flower design and arrangements, the kind of service that she wanted to give and her devotion to Hawaii. The Nene Goose ended up being a great symbol of the spirit of this unique company.
So, Happy 25th Anniversary! Ho'omaika'i 'ana (congratulations) and Mahalo (thank you) MauiGoose for making the world a more beautiful place one flower at a time.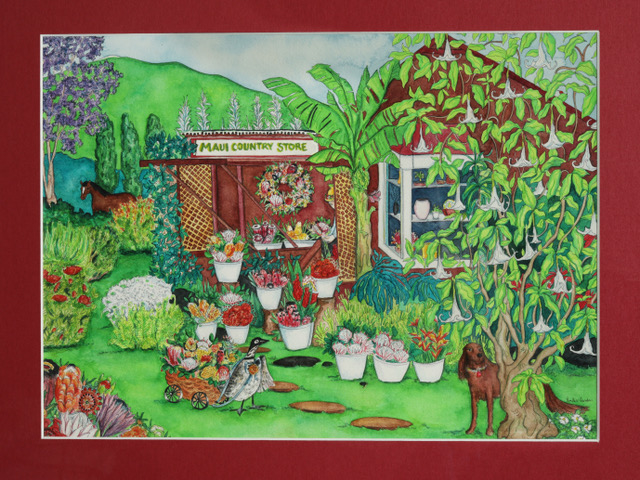 This image represents Chief Goose Verna's shop in upcountry Maui in the 1990s. The painting by a local artist was presented to Dr. Philip Parvin on his retirement as Director of the University Of Hawaii Agriculture Extension Service in Kula, Maui. His office gave daily horticultural advice to the local farmers and helped them to develop new cultivars. He was an important part of the agricultural community on Maui.